NGURAH RAI AIRPORT (DPS) INFORMATION
Origin
Airline
Flight no.
Scheduled
Est./Actual
Status
No flight arrivals were found at Ngurah Rai Airport.
Destination
Airline
Flight no.
Scheduled
Est./Actual
Status
No flight departures were found at Ngurah Rai Airport.
Car Hire at Ngurah Rai Airport
UNBEATABLE VALUE CAR RENTAL
Free Amendments | Free Cancellations | No Card Fees




Ngurah Rai Airport - All Information on Ngurah Rai Airport (DPS) Ngurah Rai Airport
Jalan Raya Gusti Ngurah Rai, Tuban, Kuta, Kabupaten Badung, Bali 80362, Indonesia
phone +62 361 9351011
phone+62 361 935 1011 (Lost + Found)
emailcc172@ap1.co.id
call_end+62 361 935 1032 (fax)
Facts and History about Ngurah Rai Airport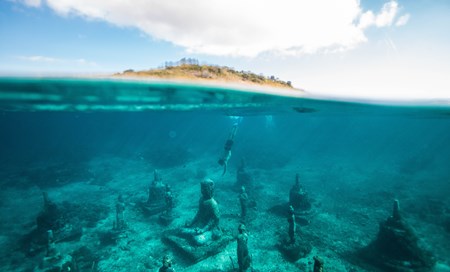 Bali Airport known as Ngurah Rai International Airport (DPS) is Bali's main airport and gateway to southern Indonesia. In 2017, more than 22.8 million passengers used the airport, which is located approximately 13 km south of Denpasar. Ngurah Rai International is Indonesia's second-busiest airport, after Soekarno-Hatta International Airport. Ngurah Rai Airport lies in the Kuta, Kabupaten Badung district of southern Bali.
Ngurah Rai Airport's refurbished domestic terminal re-opened in 2014 and has since seen a steady increase in passenger numbers. The airport's international terminal was inaugurated in 2013. It offers passengers 62 check-in counters, improved duty-free shopping and a far greater retail area with restaurants and cafes. There are ten gate jet bridges to aid passengers to their flights. The airport is operated by PT Angkasa Pura I.
Arrivals, Departures and Airlines at Ngurah Rai Airport
Transportation Services at Ngurah Rai Airport
There are a few car rental companies at Bali Airport, offering affordable transport options to passengers, among them Avis, Bali Car Hire and TRAC Astra Rent A Car.
Passengers opting for taxi services will find the taxi company counters right behind the customs area on the arrivals level and taxi stands and counters directly outside the terminals. Both fixed and metered fares are available 24 hours a day. A one-way trip to Denpasar costs around 125,000 Rp, a trip to Kuta costs approximately 80,000 Rp.
A bus journey with one of the public bus services costs around 7,000 Rp one-way for the Bandara-Tabanan service. There are pick-up areas at the International terminal and at the Domestic terminal (Koridor Kedatangan Domestik). A ticket for the Bandara-Nusa Dua service costs ca. 3,500 Rp and the Bandara to Batubulan service costs the same for a single journey. The bus service to town is called Transarbagita.
Parking at Ngurah Rai Airport
On the northern side of the international arrivals terminal is a multi-storey car parking facility with 5 floors. This facility has a capacity for 730 vehicles.
Motorcycle parking is handled also on the northern side, but on the inland side. There are three buildings with two parking levels each, as well as an outdoor car park designated for motorcycle parking usage.
Premium parking can be found directly in front of the departure area of the domestic terminal. The outdoor car park has a capacity for 300 vehicles. On the northern side of the domestic terminal is another car parking for regular parking. It has a capacity for 50 buses or trucks and 545 cars.
Duty-Free Shopping at Ngurah Rai Airport
The expanded retail area offers passengers plenty of choice when it comes to duty-free shopping. Categories like tobacco, spirits and wine, perfume and cosmetics, fashion and accessories, jewelry, toys and electronics are well catered for, as well as Balinese speciality foods.
International brands include Giorgio Armani, Chanel, Clarins, Clinique, Dior, Tom Ford, Gucci, L'Oreal and Estee Launder, Longchamp, Montblanc and Victoria's Secret. The Spirits and Wine section offers customers choices like Martell and Hennessy, Johnnie Walker and Glenlivet, Jack Daniels and Jim Beam, Absolut and Glenfiddich.
Home-produced items sold via shops like Bali Living include Bali coffee like the rare kopi luwak, dried fruits and fabrics made in southern Bali.
Public showers, a Guardian Pharmacy in Departure and restaurants and coffee shops like House of Beans International, The Merchant Bistro by Periplus, Kantin Modern and Bread Bakers, Three Coffee Bar and Singgalang Jaya Bistro provide passengers with additional services that help to make travelling via Ngurah Rai Bali International Airport a pleasant experience.
Hotels near Ngurah Rai Airport
There are a number of hotels to suit all budgets and requirements at or near Ngurah Rai Airport.
Additional Services and Amenities at Ngurah Rai Airport
At Ngurah Rai Airport you will find the usual array of bars and restaurants, airport lounges and shops.
Things to do in Bali
There are a number of activities to suit all ages and interests in the region - see a selection of tourist activities in Bali, Indonesia.
Services at Ngurah Rai Airport
Useful Information about Ngurah Rai Airport